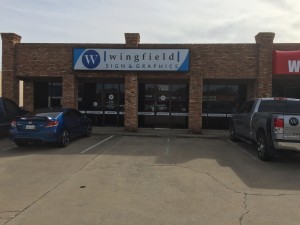 Company Background
Wingfield Sign & Graphics has earned the credibility and trust of its clients by providing excellence in service and product quality. Wingfield's philosophy is to build its success on its clients' success. With this mindset, Wingfield designs and manufactures signs and graphic materials that will promote your site, increase traffic of your store / point-of-purchase location, which will ultimately help your business succeed. Some of our clients include NBC, Time Warner Cable, Cawley Partners, Workforce Solutions Greater Dallas, Precision Construction & Roofing and University of Texas.

By serving individual business owners, we in turn help the whole community thrive. Healthy businesses provide leverage for the development of better schools, better hospitals, a cleaner environment, and improved living in the community.
Mission Statement
The mission of Wingfield Sign & Graphics is to help the business community in the DFW and surrounding areas succeed by providing effective signs that will increase visibility, conspicuity, and traffic of the business. We are also a company committed to creating a harmonious community by supporting diversity, promoting business integrity and maintaining a clean environment. We believe actions of today will have a deep impact on the quality of life of the generations to come.
Company Culture
The single most important belief shared by all employees at Wingfield is to create long-lasting relationships with our clients by providing services that we truly enjoy. We achieve this by constantly reminding ourselves to put ourselves in the customer's shoes, understand the customer's objectives and apply that knowledge into the design and manufacturing of our products. We want to make our clients proud of their businesses through the use of the high quality signs and graphic materials we create.
Our Team
Our team of professionals with extensive expertise in the sign industry can provide you with the best solutions for your signage needs. Combined with our state-of-the-art equipment and facility, we can guarantee the quality of the products we produce.

At Wingfield, we want to make sure that our products will meet the following three basic requirements:

Will stay within your budget range
Will be delivered on-time and,
Will maximize your return on investment.
Career Opportunities
We are always searching for talented, highly motivated candidates to fill our sales, design and production departments. In particular, we seek people who are willing to question the status quo and to revolutionize how things are done in the signage industry. Self-importance does not belong in our vocabulary, therefore we seek team players. If you feel you have these qualities, we want to hear from you. Please drop us a line at

info@wingfieldsign.com
Location & Hours of Operation
Wingfield Sign and Graphics is located at

7320 Boulevard 26

Richland Hills, TX 76180

info@wingfieldsign.com

Metro: 817-628-1002

Fax: 817-628-1007

We primarily serve the DFW and surrounding areas including Fort Worth, Dallas, Euless, Southlake, Richland Hills, Grapevine, Lewisville, etc., however we have completed numerous larger projects and are fully capable of completing projects outside the DFW area, such as Houston, Austin, and San Antonio.